Mr. Softie just stopped by - well, we stopped him, he was parked down the block. Lindsay got herself a vanilla cone dipped in chocolate. I didn't get anything, times are tough here in the Bronx, I had $4 in my wallet. Pathetic, I know. Gotta provide for the wife and kid (or in our case, Nathan). She ate the ice cream coated in the chocolate and fired the rest in the garbage. Oh well, next time I'll ask Mr. Softie if he can coat the ice cream in layers.
Just started reading a new book, my favorite author, Chuck Klosterman. The book,
Downtown Owl
, is a novel about the small town of Owl, ND. He's written for
The NYT Magazine
and
The Washington Post
and his previous books have covered topics ranging from the relationship of rock music, mortality, and love (
Killing Yourself to Live: 85% of a True Story)
to the history of glam metal (
Fargo Rock City: A Heavy Metal Odyssey in Rural Nörth Daköta
) to previously published columns and articles on pop culture (
Chuck Klosterman IV
). I just like his writing style, give him a shot. You'll probably chuckle to yourself like I do. Nathan's been trying to learn to read
Downtown Owl
:
Yankees vs. Mets - not looking too good for the Yankees so far. Bay kills the Yankees. Stupid throw by Russo out in LF - C.C. needs to get out of this jam - I hate José Reyes, stupid hair, nonchalant actions - just stay on the DL foo! Damn, 2-0 Mets. Alex Cora, seriously? See, there goes Bay, HR to deep left-center. Crap! I'm going to switch topics, this game isn't going how I had anticipated.
Today's Birthdays: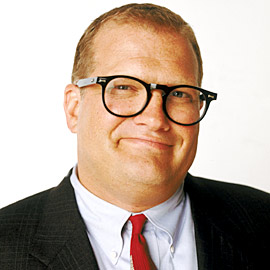 Cleveland Rocks, Cleveland Rocks!! Happy Birthday to comedian
Drew Carey
, who's 52 today. I think he's still the host of the new
The Price is Right
. When I'm home weekdays (which is never), I'd watch it.
Author, sports-columnist, radio-personality
Mitch Albom
, who's books my mother loves, is also 52 today. I hate his hair, it's always covering his ears and just looks stupid, but he's great on "The Sports Reporters" on ESPN. Keep up the good work Mitch, and cut the hair over your ears. But Happy Birthday nonetheless.
Game's on - C.C. singles, Jeter singles, Gardner is so fast but hits into the 4-6-3 DP. Will someone please step up and get some hits off Santana? Teixeira blows! Game's off - channel surfing instead.
Back to work tomorrow. Graduation was a success, everyone walked across the stage for the first time ever. It was about 100° in the gym, but they had 8 fans that cooled off the faculty. Parents, family, and friends suffered in the sweltering humid gym.
Flipped it back on and back off - Joe Morgan is a moron. I was hoping his new job as special advisor for the Reds would help ease him off the SNB set, but no such luck. Him and Jon Miller - match made in heaven for a black and white silent film.
I'm done with this game for good - Food Network is going on, even if it means I have to watch "Down Home with the Neely's".
Monday tomorrow - time for some zzzz's.