Drove down to dinner but there was killer traffic on the West Side Highway, so I improvised and got us there is plenty of time. Dinner was great - Lindsay had the phyllo-wrapped asparagus to start, the sea bass entree, and apple beignet for dessert. I opted for the risotto with prosciutto, roasted duck, and their take on a pistachio gremolata on top of a brownie with hot fudge dumped on top. Awesome!
Now to the photos, nothing too exciting, so temper your expectations:
Just a cool building on the corner there in the middle of the photo---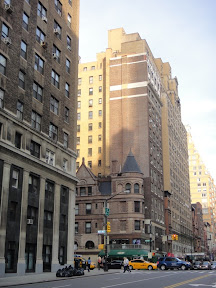 Shaftway, hahaha, just some juvenile humor---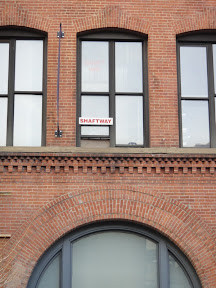 Here's another pretty neat looking building right on 9th Ave.---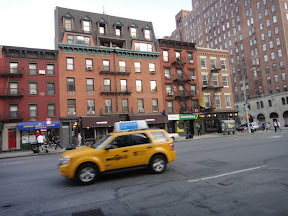 And a shot of the exterior of our destination---
Some Ivy League banter by way of graffiti sticker---
Brownstones along 21st St. at night---
A view of the New Yorker building and a very partial view of the Empire State Building (just the bright white light above the building on the right hand side)---
Overall, it was a very nice night out. Lindsay drove back since I had an Abita and a glass of Pinot Noir.
Off to work in a bit. We are supposed to play today but the forecast doesn't look so good. We'll see what happens.
Location:Chelsea, NYC