- Jane Krakowski a few rooms down toting around her newborn baby girl, with boyfriend designer Robert Godley. She's an actress on
30 Rock
, in case you lived under a rock. I just want to see Tracy Morgan come visit.
- A nursery filled with tons of boys. Serious, there's got to be a 4:1 boy:girl ratio. Good thing Nolan is the handsome-est out of the whole lot. Maybe Jane's daughter will take a liking to Nolan.
- Some sketchy looking dude lurking around the halls. He's dressed to impress, but I am not sure on his role at this hospital.
- Wristbands. I've got two one - a green one on the left for entrance to the hospital whenever I want and a white one that matches Nolan's so that they know he's mine (ours).
- Pictures. Some lady came in and took photos for a website if people wanna buy them. I'll display some more of my own: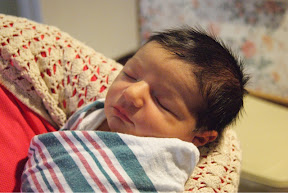 Yeah, he sleeps a lot. And he's bad-ass in a frog hat.
Time for periods of sleep, he's coming back from the nursery. Tomorrow we get to go home, after final evals of Nolan and Lindsay. Sounds like it should be a breeze and then Nolan gets to meet his big brother, Nathan. We've got to be sure to show Nate-Dog lots of love as well. I hope he's fine with Nolan around.
Fingers crossed.
Location:Lenox Hill Hospital