Here's some food for thought - if you go out and choose to wear a pair of pants/shorts with belt loops and a tucked in shirt, would you wear a belt?
The answer is universal - YES! Oh but hold the phone - I saw 4 people in the past two days who violated this simple yet hard-to-master technique. The fucking loops are there for a reason - for a belt! Go ahead and wear a shoelace around your waist. Use a rope. Use SOMETHING! Don't walk around with your shirt tucked in and no belt on - you look like a douche.
Here's a very old forum that discussed this.
Again, I forgot to snap photos of these boobs and they terribly low fashion IQ's but I will add a few photos from a Google search:
Belt-free khaki - doofus!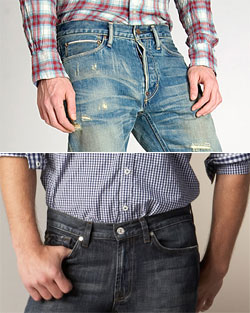 I feel like this is silly looking too.
Here's
another article written by a consummate professional regarding belt-wearing
. It's a must.
It doesn't matter if your pants are tight? - who cares, wear a belt.
If you're pants are baggy? - definitely wear a belt.
Khaki pants with a polo tucked in? - belt it.
Denim with a tucked in t-shirt? - pull the shirt out and add a belt.
This is something that is so basic, so rudimentary, that it shouldn't even have to be addressed. If it has loops, they're to be utilized.
Plain and simple - but not so simple for some guys to comprehend. Women, for you, this article does not apply - or does it?